for the love of chocolate
McGuire Chocolate Story
McGuire Chocolate is a bean to bar chocolate maker with a focus on preparing a simple and high quality product from the inside out.

Mark stumbled across cacao beans while backpacking around Central America. While eating these beans as a healthy, lightweight snack he couldn't help but wonder how did this turn into chocolate?

After some attempts to make chocolate on his travels - roasting cacao over a fire, peeling beans by hand and putting them through a meat grinder - Mark returned to Calgary with a suitcase full of cacao looking for a chocolate maker to learn from.

He quickly realized there were a lot of people working with chocolate but not many making chocolate from the cacao bean.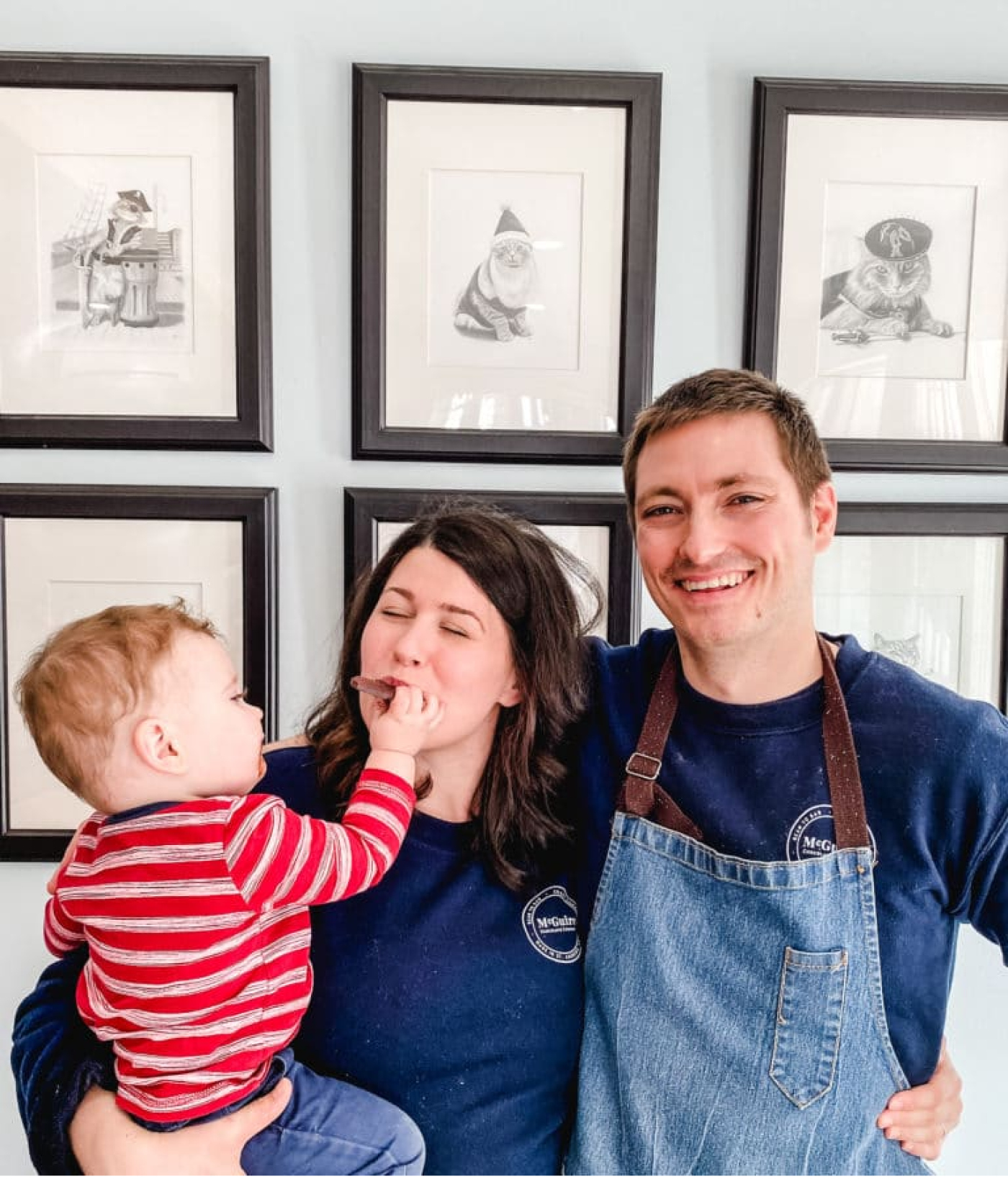 SWEET FLAVOR
WHO WE ARE
Now, we have been making chocolate for over six years and we continue to evolve our products and hone our craft.
Our passion for chocolate grew in Calgary, but we are now located in beautiful St Andrews-by-the-Sea where we have scaled our chocolate making operations.  We have a café storefront on Water Street where we also make ice cream, bread, and baked goods using our bean to bar chocolate.
We wanted a business we could integrate with our family life. We live above the store and this allows for a short commute and increased quality time with our family.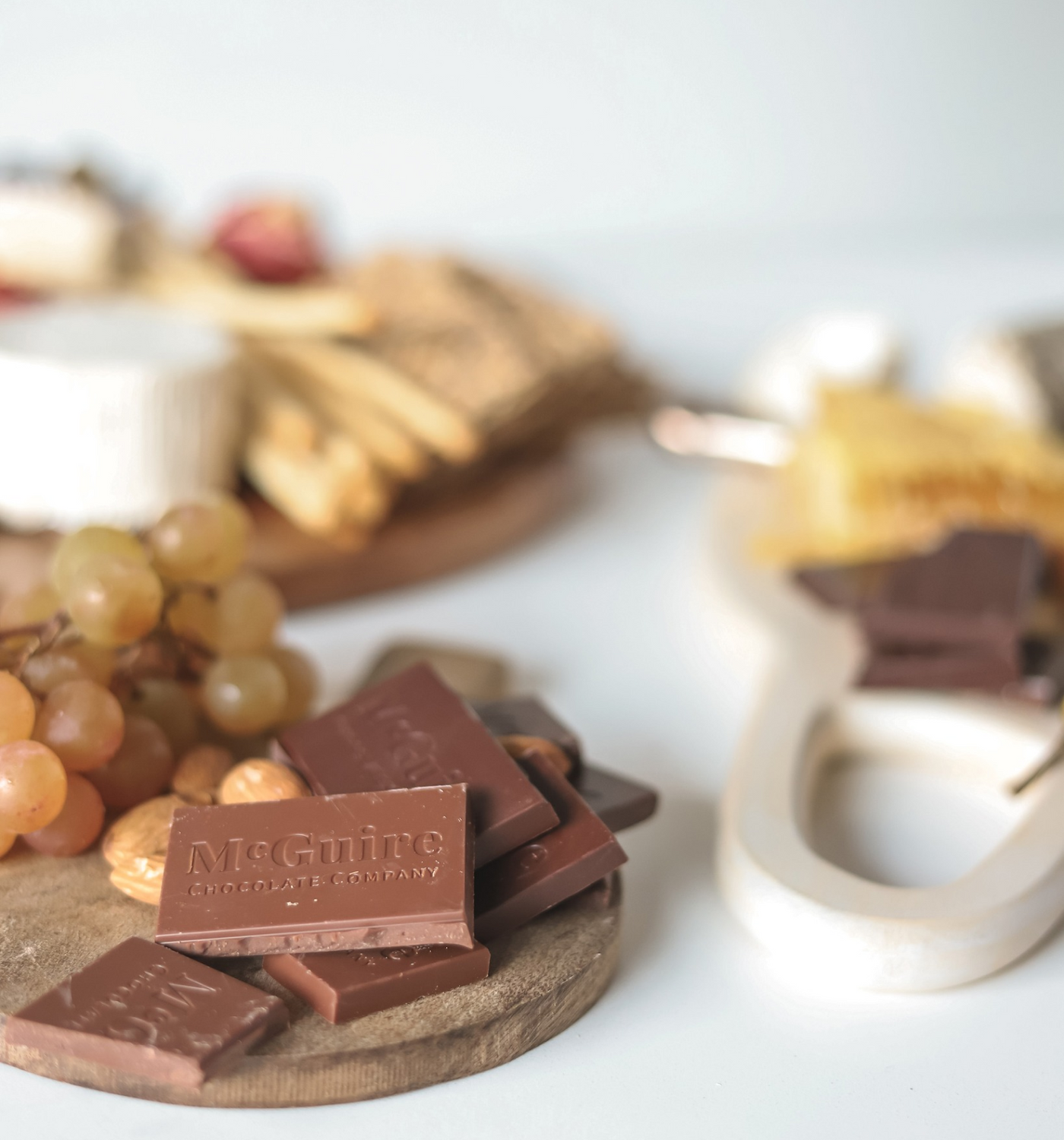 AUTHENTIC TASTE
CHOCOLATE PASSION
We are proud to champion a transparent supply chain while sharing amazing chocolate with the world.
Our chocolate is made from cacao that can trace its origins back to a single source. This is in contrast to commercial chocolate which is widely blended from sources that are hidden from the public.
We work exclusively with cacao that has undergone a controlled fermentation. This is a small niche market in the cacao industry, as only about 5% of cacao gets fermented in this way, due to the infrastructure and knowledge requirements at source.
The undertaking of controlled fermentation is often too daunting for individual farmers so this value-add step is being accomplished by a growing number of farmer cooperatives and social enterprises with a mission to improve the lives of farming families by putting more money directly in their hands.
Single origin chocolate allows for a variety of flavour profiles between chocolate bars. Every dark chocolate bar you see in our shop will have a different flavour profile. These flavour profiles are based on many influencers from both the cacao farms and our process. The four primary influencers are: genetics, fermentation process, roasting and grinding methods.
We encourage you to try a few bars side by side with a friend. Break off a piece and make sure you let it melt in your mouth. See which flavours come to you.
Mission
Our Food Philosophy
We believe food should be simple and easy to understand.
Like the McGuire Chocolate team, our ingredient lists are small and mighty. You will never find lecithin, flavourings, or ingredients you can't pronounce in our chocolate. Only real food here.
We highlight the farmer groups that produce our cacao and also the suppliers that connect us to those farms. Transparency is important to us; we believe it is the key to nurturing a happy and healthy supply chain.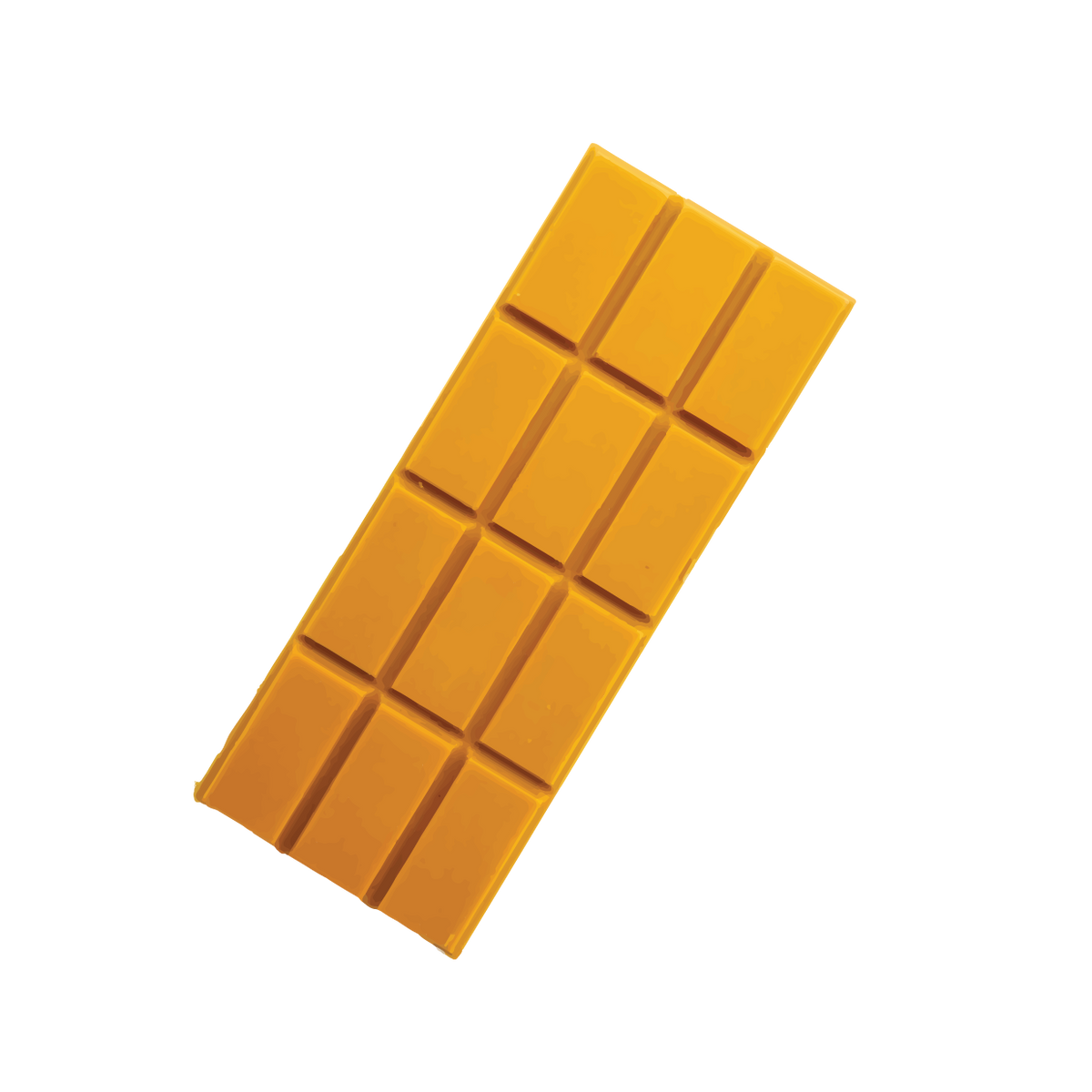 We never take short-cuts
We work with high-quality ingredients that you can taste. Our commitment to quality means we'll take our time and process with care. You won't find preservatives, emulsifiers or other commercial additives here.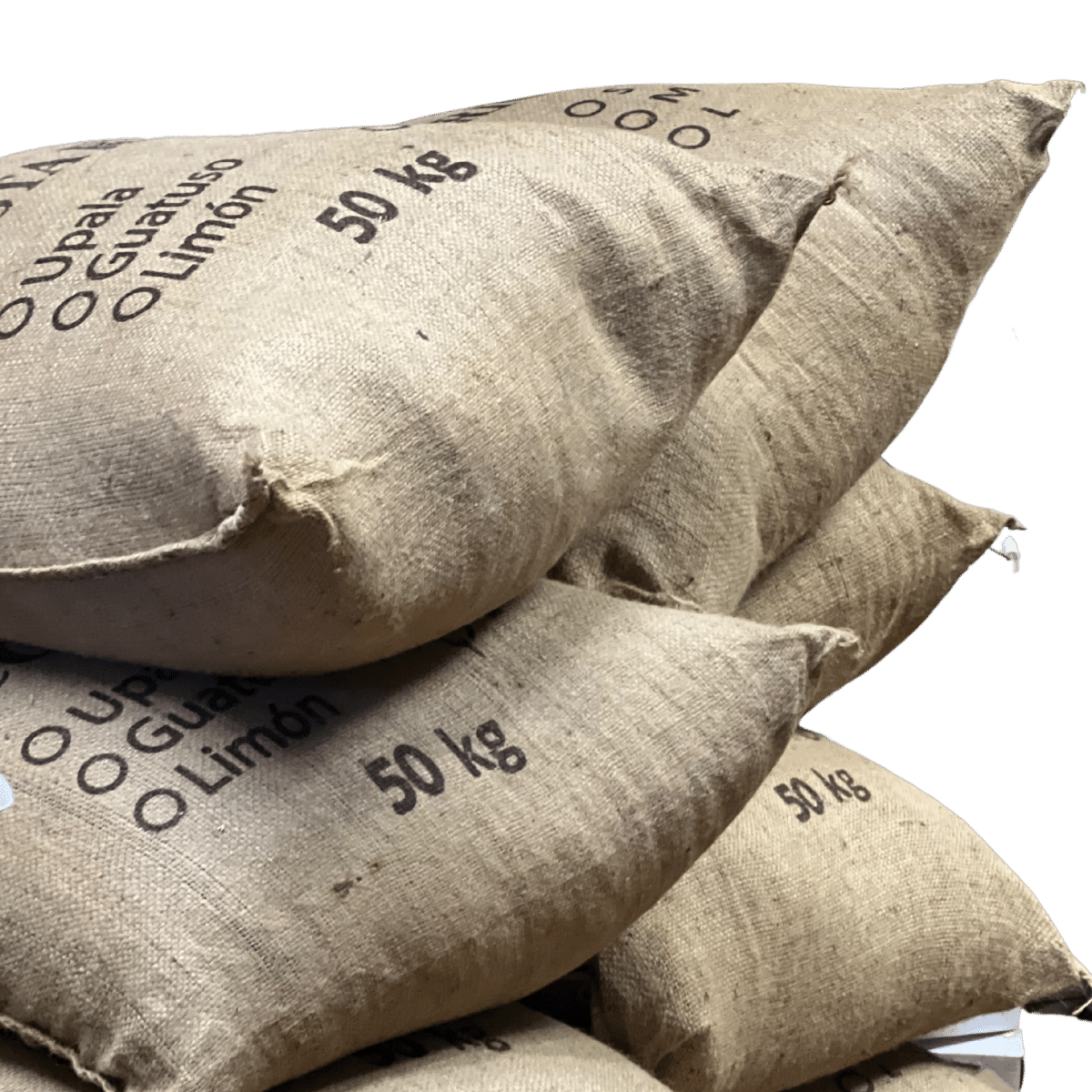 We are an open book
Our food journey is available for all to see which is why we have a huge window into our chocolate factory and will happily talk shop with anyone interested. We have no tricks or secrets.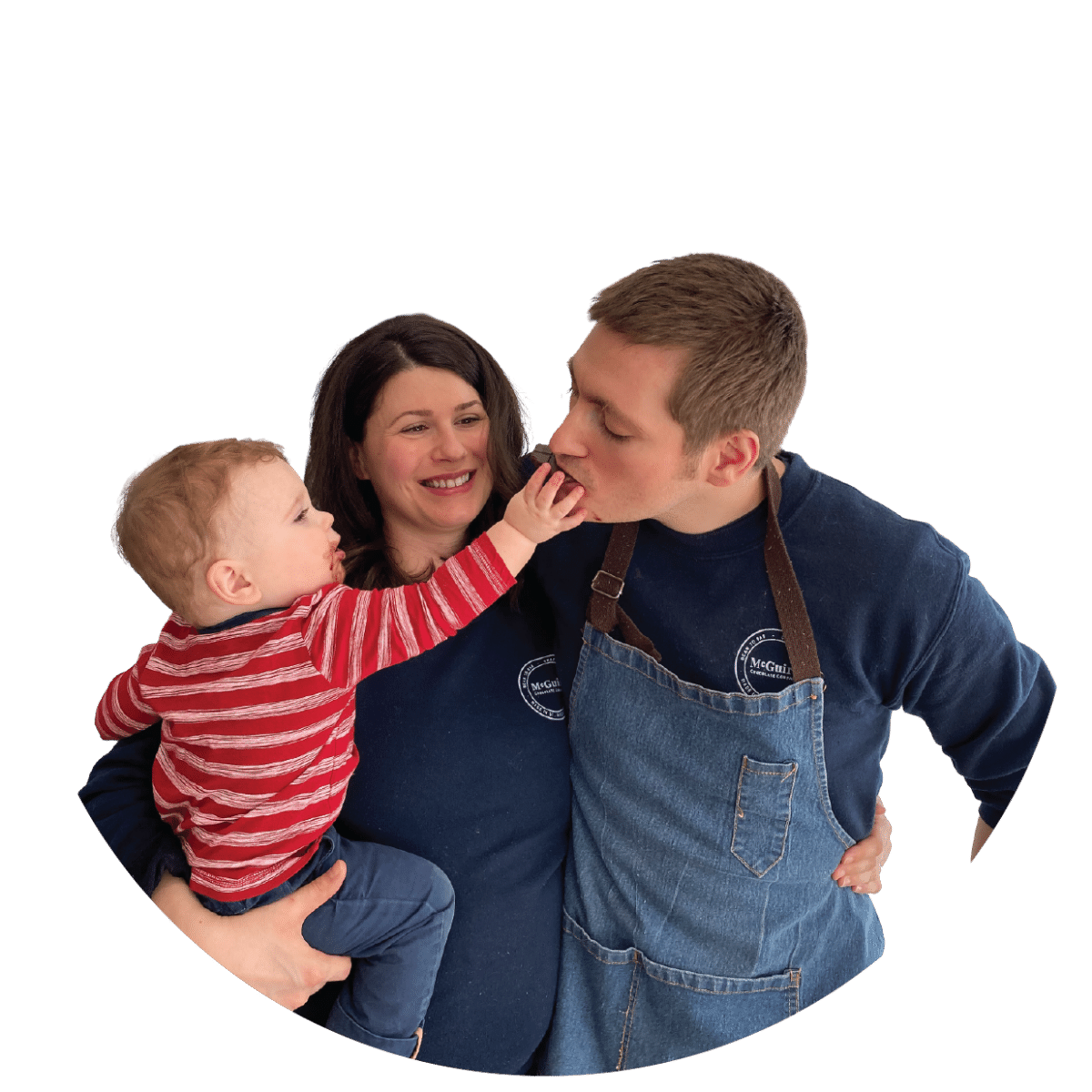 Meaningful connections
Bean to bar chocolate is so good that it must be shared. The positive impacts on farmers, local makers, and artists make it a feel-good product but it is the taste that will have you talking.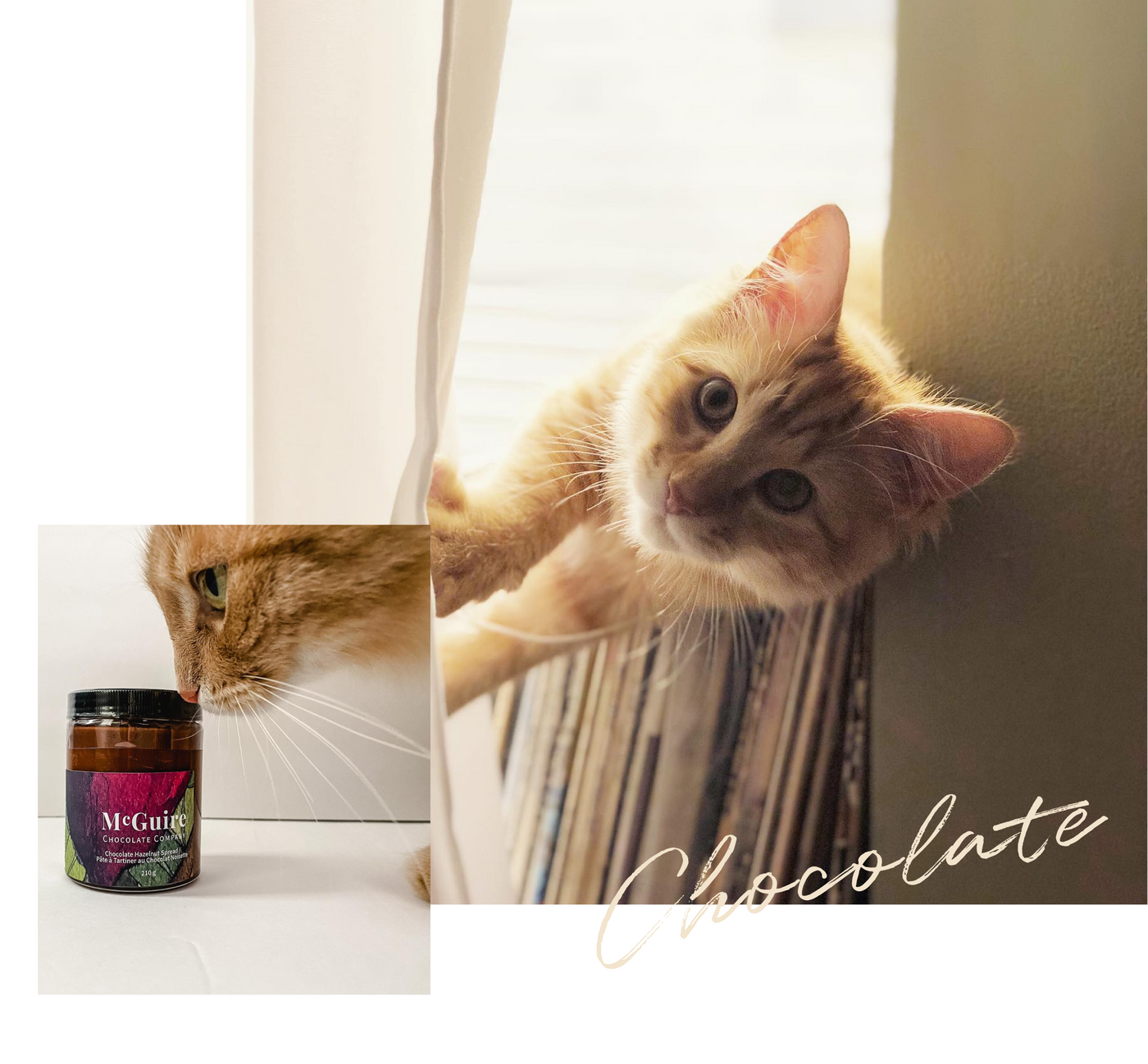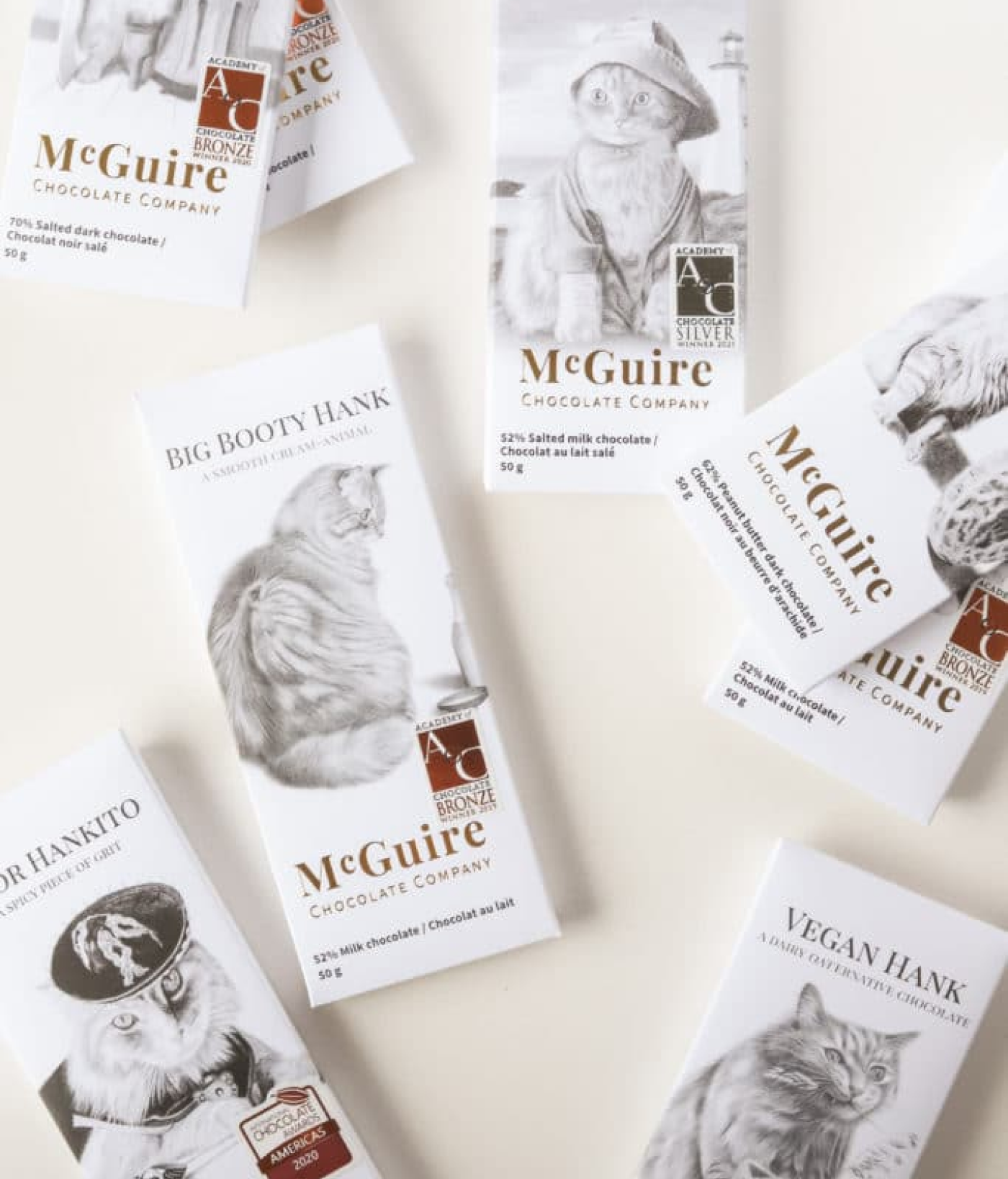 CHOCO TIME
WHO IS HANK?
Hank is our cat!
We adopted Hank from the Calgary Humane Society in 2015. We loved him right away because of his playful attitude and piercing eyes. He is always looking for a piece of wool to play with or a warm spot to relax in.
Hank gives THE BEST purrs. He will crawl on our chest and insist we take a break from time to time.
SPECIAL TASTE
THE HANK SERIES
So, the Hank Series is based on him and his many purrsonalities. These bars are made up of fermented cacao, organic cane sugar and thoughtful inclusion ingredients.
These days you can find Hank in the ally behind the store with his adopted son Tam. Hank loves being outside. He has many cat and people friends in town.
AUTHENTIC ART
Unique Packaging
There are two artists behind our brand. Jim Little does the pencil drawings for the Hank Series and Kristopher Parley does the water colour and ink artwork found on our origin bars.
Collaborating with talented Canadian artists to create packaging that stands out is an honour and a true pleasure. We don't use attention grabbing colourings or art effects on our chocolate because of our commitment to ingredient integrity. The packaging is how we can communicate how special the product inside is.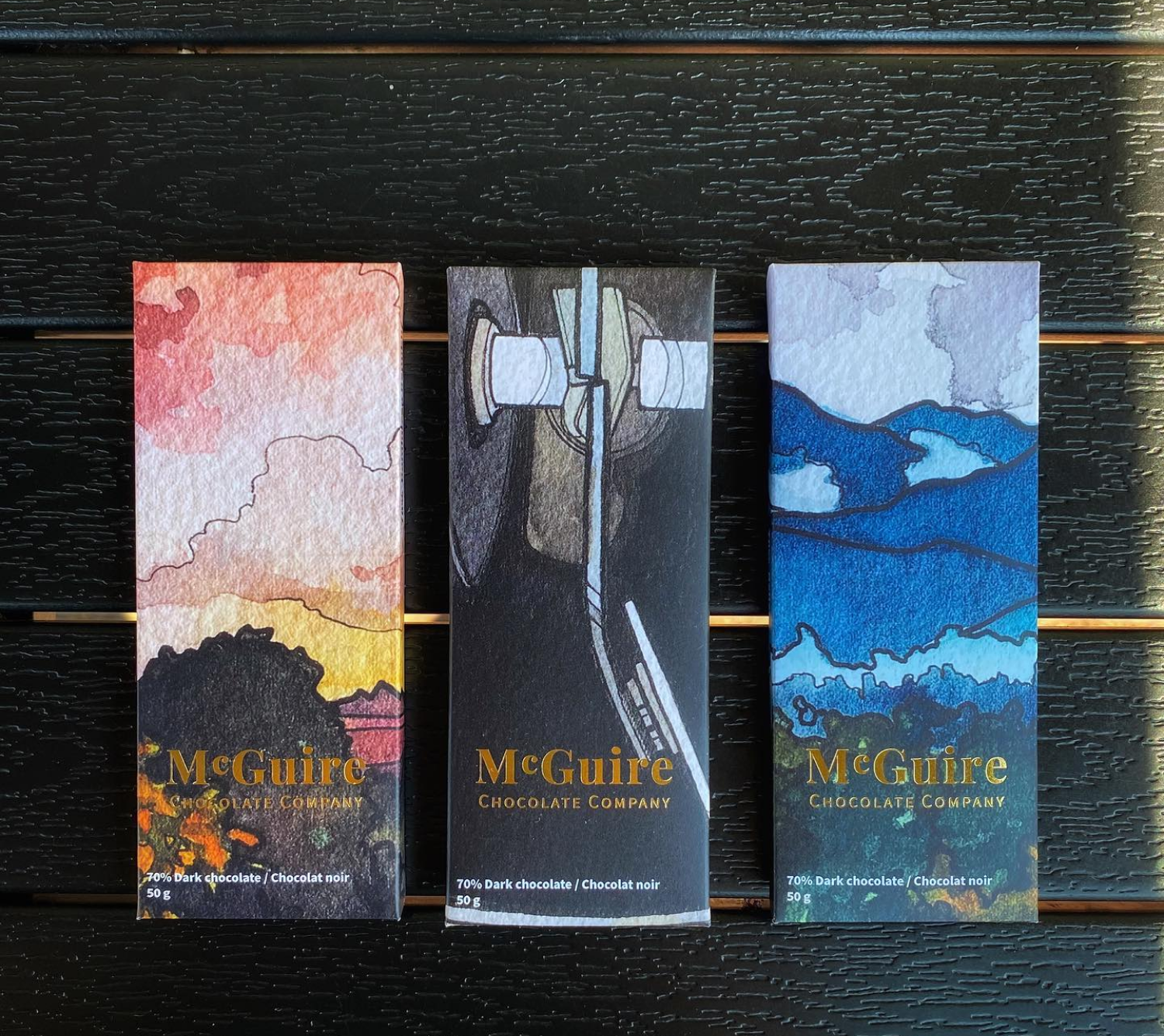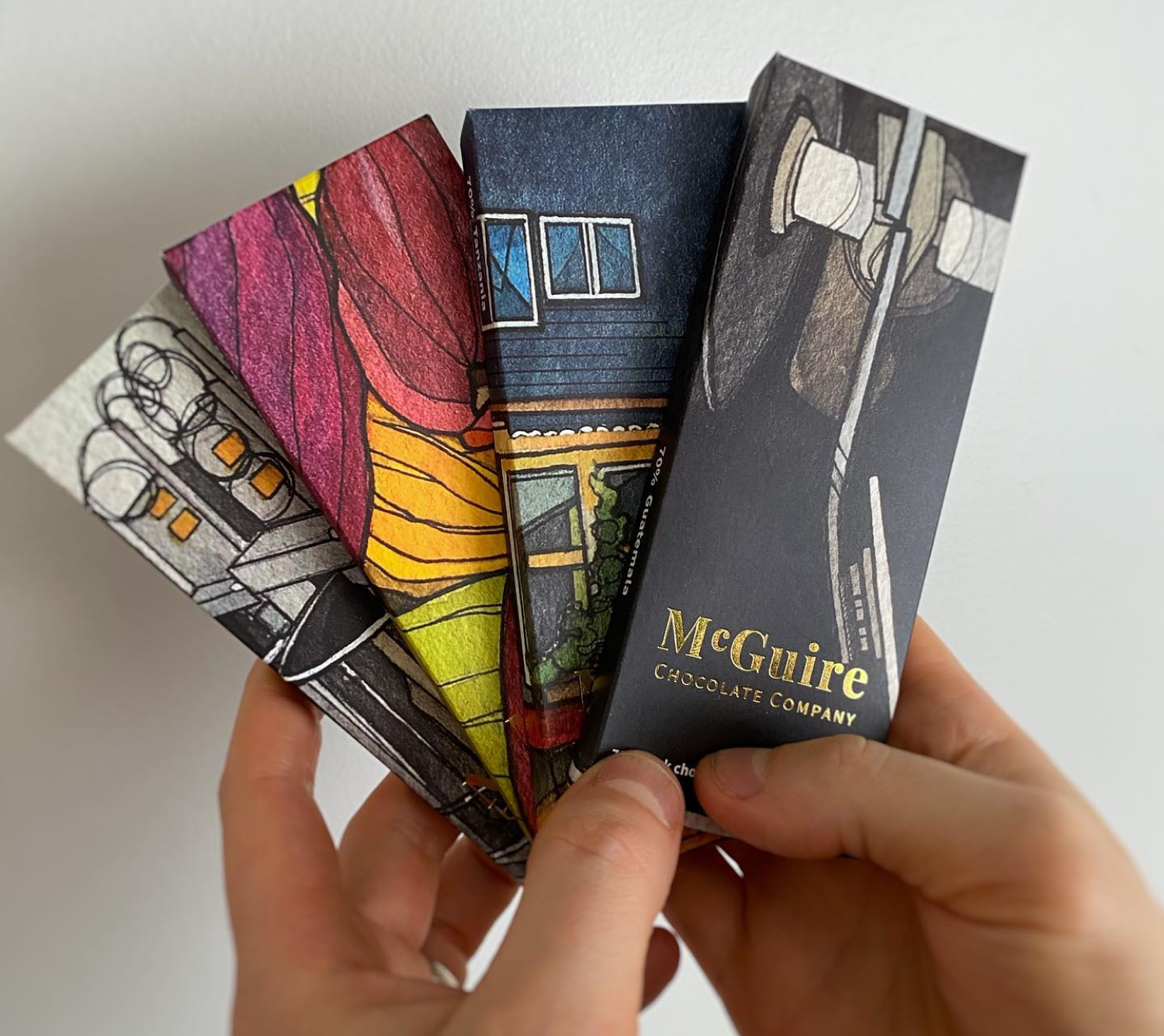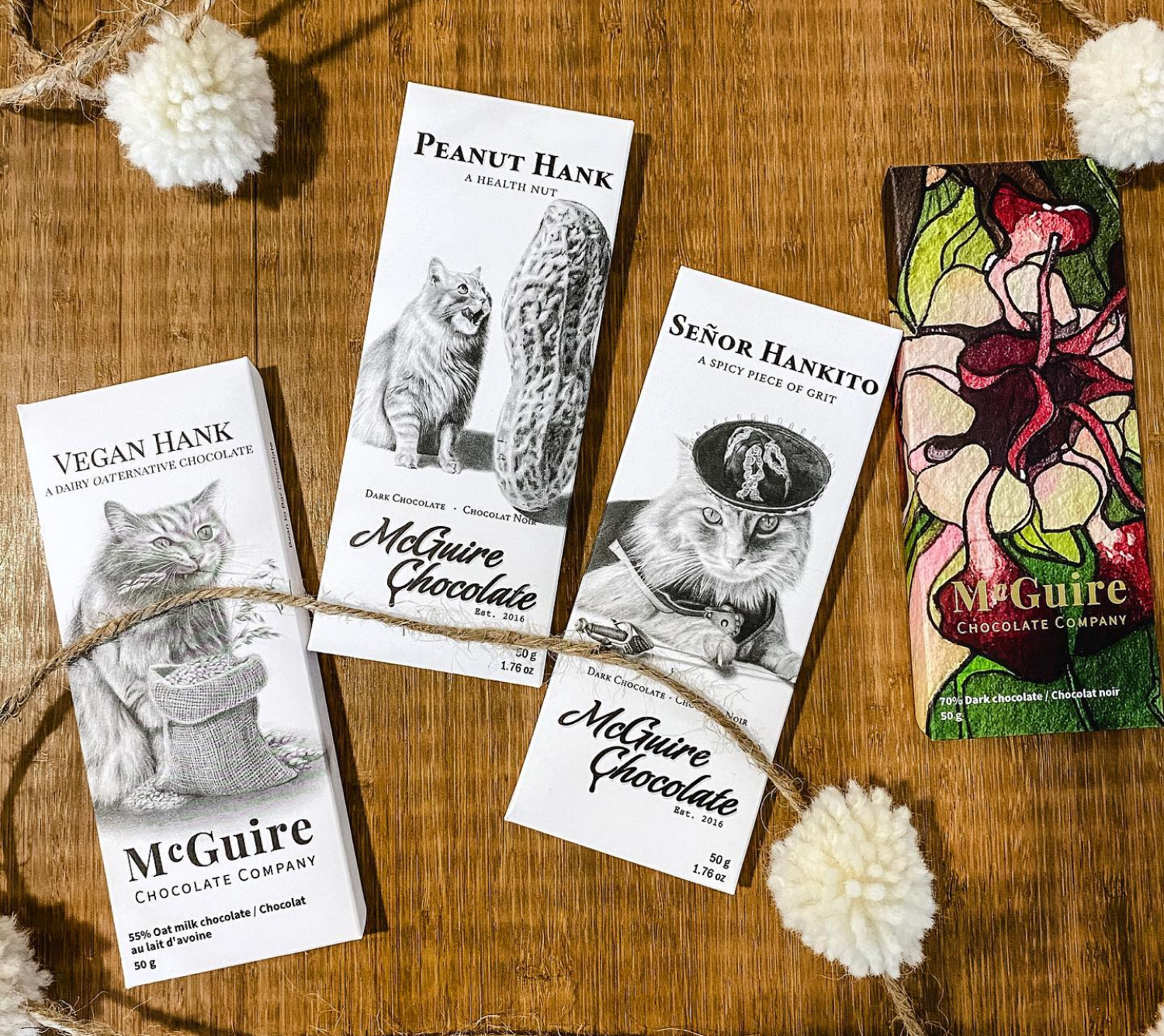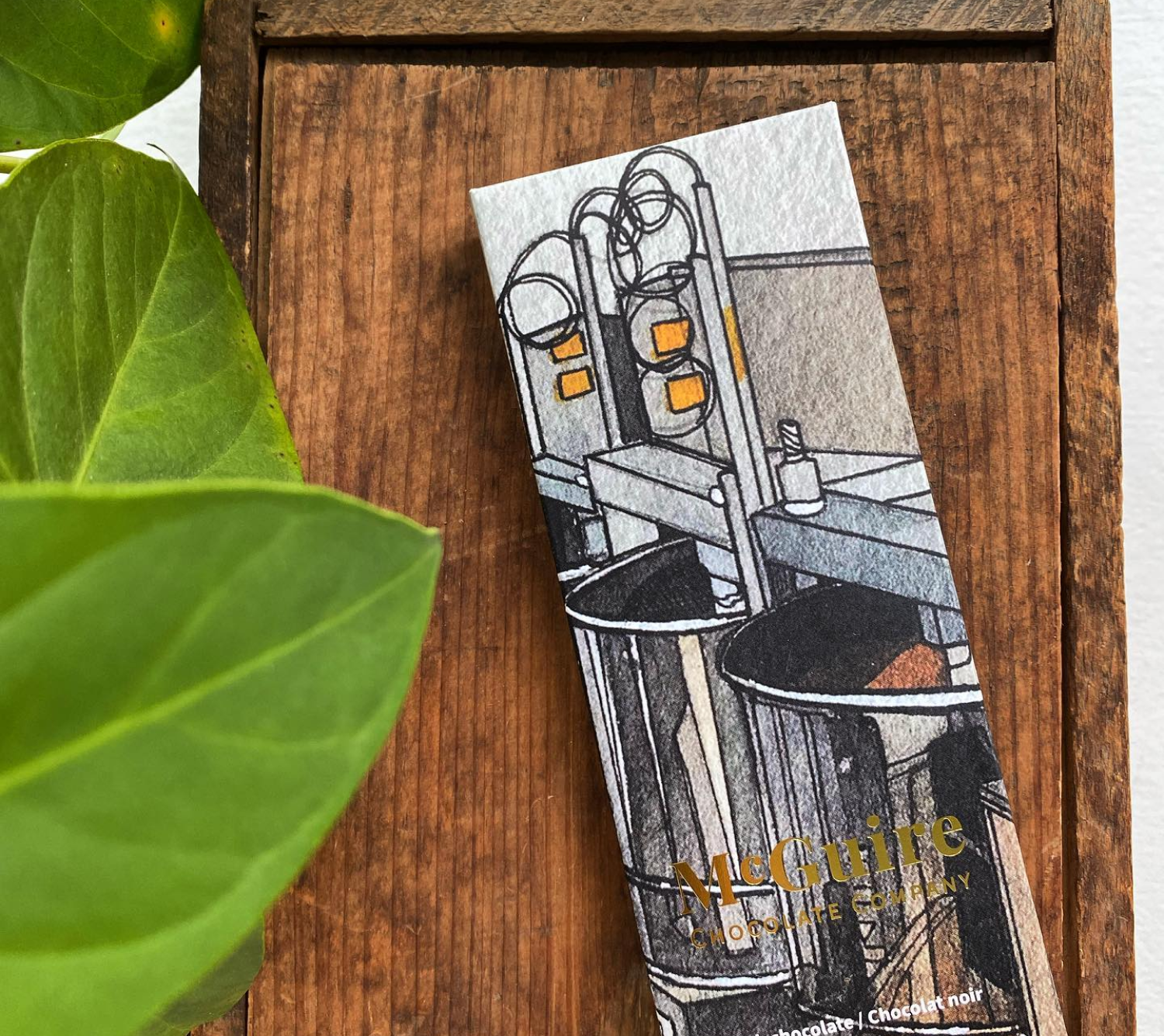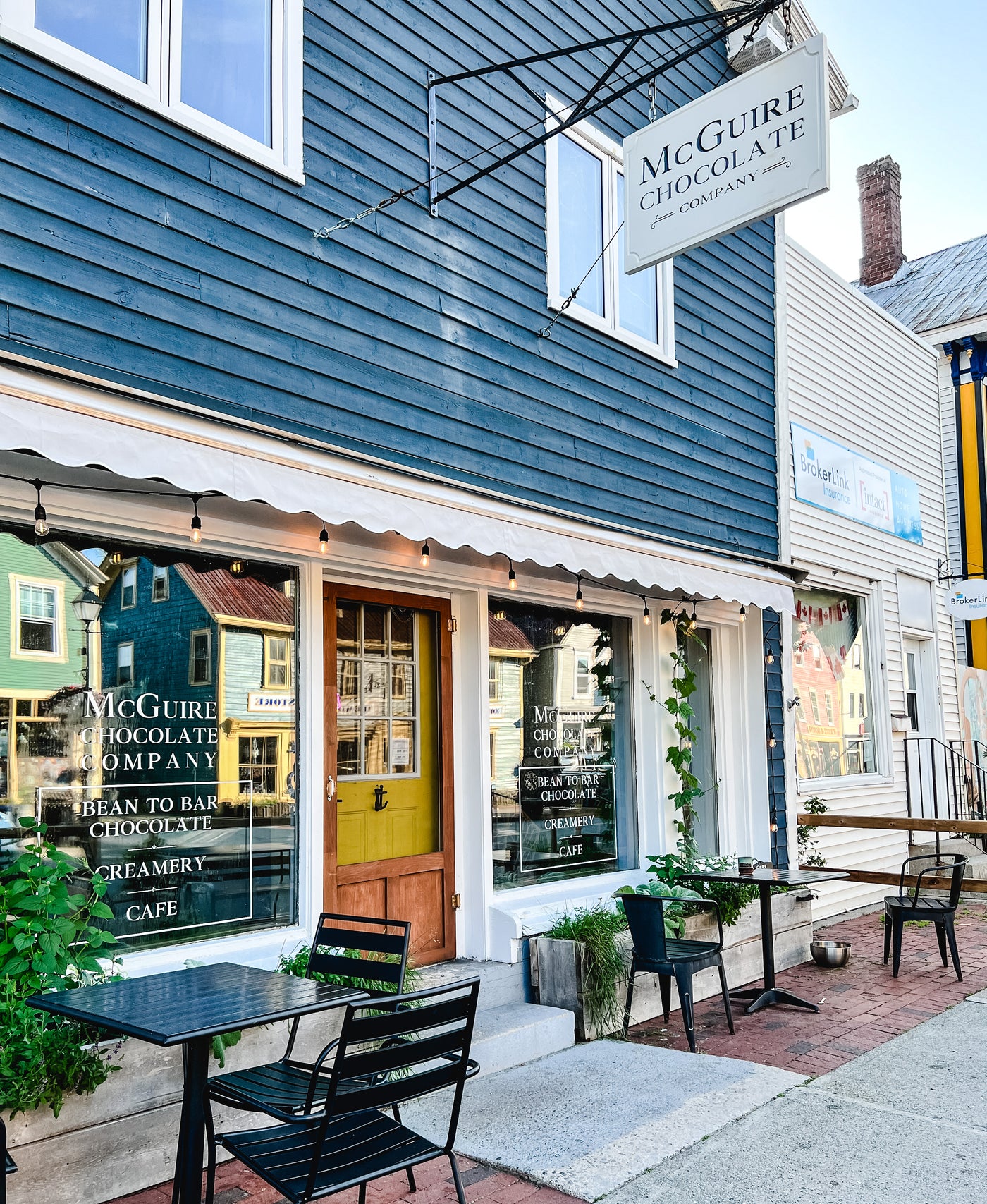 WE ARE OPEN
Monday - Saturday
8 AM - 6 PM
Sunday
8 AM - 5 PM
174 Water Street, St. Andrews, NB